So a Catholic priest, four Jews & several pastors walk into a bar. It sounds like the start of a great joke, but that was the make–up of our tour of the Holy Land… I loved my trip to Israel! I have arrived back with so many memories, photos, video clips and notes. I thought I'd better write a few thoughts down.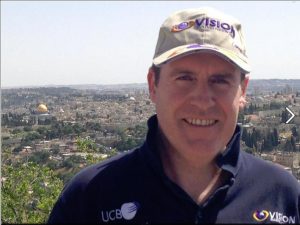 The reason for this trip was to learn as much as I could about Israel, to prepare for a tour I'll be hosting in November 2014. My boss at Vision radio, Ian Worby has been several times along his wife Mandy, and they recommended I go on this trip.
---
A good friend of mine with a passion for the Holy Land kindly donated the money for the trip, so this was a confirmation this was the Lord's plan for me to go. I went with ten other pastors who are also hosting tours in the future. We had a great time of fellowship and a few laughs along the way. Our group really got on well, which was a good sign of unity. We had a Catholic, a Baptist, five Uniting church ministers, three Pentecostals & a Church of Christ pastor. It was like Joshua & Caleb and ten others spying out the land, or like the 12 disciples travelling around. Thankfully none of us was called Judas…
The other characters in this production are as follows:
Our travel agent, Steven Green, was leading the group. He's been to Israel 19 times and has a strong Jewish faith. I was inspired when he told us he loved bringing Aussies to Israel—but it was a lot more than a job to him. He felt a sense of higher purpose behind it all. He did start each day with a religious joke, which was a calculated risk. I was not only very impressed, but now I have lots of new material. This is great because my church tells me some fresh jokes are desperately needed…
Our tour guide was an Aussie bloke named Jo. He grew up as a Jewish boy in Perth, served in the Israeli army for a number of years and now lives in Israel in the Golan Heights near the border of Syria. On occasion he would tear up when he spoke of the people of Israel. His passion to tell the history of his people was well received among the group. He also is a look–alike of the Aussie cricketer, Dennis Lillee. Our group had a lot of fun chanting like a cricket crowd, 'Liiii–leeee… Liiii–leeee…' He really did enjoy it… we think so anyway.
Our driver was a Jewish man named Abraham. I think he became an Aussie by the end of the week. He was cracking jokes and laughing along with us. One of the funny things that happened on our mini–bus was because of the ringtone on his phone. It was a really loud dance song and, every time it rang, we'd all start clapping along and chanting at the top of our lungs. It was hilarious!
Naftali is the tour operator based in Israel. We now call him, 'Sir Lunchalot'. He turned up and joined us regularly… around lunchtime. He's an Aussie who is very well connected in the Holy Land. He was very hospitable! I was particularly excited when he told me he is planning on setting up an Aussie museum at Beersheba. This is the place where the 800 Lighthorsemen from Australia and New Zealand courageously charged the Turks, and turned the tide of war in the Middle East during World War I. My great grandpa was one of the Lighthorsemen. We found out two others from our group of 11 were also direct descendants of the Aussie Lighthorsemen. (For more info about the battle check out an excerpt from Col Stringer's book called '800 Horsemen'.  http://www.swcs.com.au/aust3.htm )
Since the trip I feel like I've been born–again—again! You know that feeling when you become a Christian? You want to read the Bible, and sing worship songs, and it's like everything is fresh, and alive to you! Well since the trip, I feel the same. I read the Bible and it's like, 'I've been there, I've seen that place!' At Church on the Sunday I came back, we sang Days of Elijah and, when it says, 'out of Zion's Hill salvation comes,' I thought, 'I've seen Mt Zion, I was just there!'
And I was so overwhelmed with emotion. And when I was reading the Scriptures about the Sea of Galilee, I thought, 'I've been there!' I read about Golgotha, the place of the skull where Christ was crucified, and I was thinking, 'I've been there!' I shared communion at church on Sunday and talked about the garden of Gethsemane where Christ was praying the night before he was crucified, and I was picturing the place in my mind as I spoke, because I'd just been there!
Here's a short recap of the days:
Day 1 — Flight to Bangkok, then onward flight with El Al Israel Airlines bound for Israel. I was questioned extensively by security. It could have been quite intimidating, but I was prepared. Israel is surrounded by enemies, so they have to be thorough. There were several check points before getting on the plane, and at one of them they asked me to turn on my laptop and show them a few features. They went through all my luggage and questioned me about the trip.
I felt sorry for one of my travel buddies. His name is Ryan Laden. He's a white guy from Texas who pastors a church in Perth. But when you share a surname with Osama Bin Laden, it's a given you are going to be thoroughly checked out. When we finally got on the flight, the food was great. The monitors showed some very interesting Israeli shows, all in Hebrew. So I need to brush up on my Hebrew before the next trip. I've learnt a few words already, Shofar so good…
Day 2 — Tel Aviv. We arrived into Ben Gurion Airport at 7:20 am. We met our guide, Jo, and started our tour of the Holy Land at the Neot Kedumim Biblical Reserve where we enjoyed a 'biblical' breakfast. Then off to Jaffa, the oldest port in the world and through to Tel Aviv to check in at our hotel. I went for a stroll through the markets and shopping centres, and we had a great dinner at a place called Dr Shackshooka's. Then it was off to bed early, to reset the body clock.
Day 3 — Coastal Plain
We drove north along the Coastal Plain and stopped at Caesarea Maritima to see the harbour city built by Herod the Great. We visited the Carmelite Monastery at the Mukarah, the site where Elijah smote the false prophets.  Then we went on to Megiddo (Armageddon) before continuing to Nazareth Village—a unique reconstruction of a first century village on an actual ancient agricultural site. Then it was off to our hotel in Tiberias near the Sea of Galilee.
Day 4 — Sea of Galilee
We went on a cruise across the Sea of Galilee in a traditional wooden sailing boat, before visiting the 'Jesus Boat' museum. We went to Capernaum to see the ancient synagogue where Jesus preached. Then it was on to Tabgha, where the miracle of the Multiplication of the Loaves & Fishes took place. And off to the top of the Mount of Beatitudes, where we re–lived the Sermon on the Mount. We headed north to the Golan Heights, viewed the Hula Valley from Mitzpe Gadot and heard about Israel's master spy, Eli Cohen. From Mt. Bental, we were at a look–out above Syria and the ghost town of Kuneitra and we could see the whole of Northern Israel from above. What an incredible view! We also visited the former Syrian fortifications, Birkat Ram, and enjoyed a walk through Caesarea Phillippi at Banias Falls.  
Day 5 — Jordan Valley
We went to the Yardenit baptismal site. Then we headed along the Jordan Valley, stopping to explore the ancient city of Beith She'an, a fully excavated Roman/Byzantine city of Scytopolis. We stopped for an overview of Jericho. And went up the mountains to Jerusalem. As we drove in to Jerusalem, our driver put on the CD of the song, Jerusalem. It was very moving, and I still can't get the song out of my head! We said a welcome prayer to Jerusalem from the top of Mount Scopus & then experienced the amazing atmosphere of prayers at the Western Wall for the welcoming of Shabbat. We went to dinner with a local Jewish family. It was really special. He explained how each week they would have this special dinner, and he would say a blessing over his wife and children as they celebrated the Sabbath together. We were able to have a great discussion with him that night about his Jewish beliefs; it was fascinating!
Day 6 — Jerusalem Old City
We started the day with a spectacular view of Jerusalem from the Mount of Olives. We walked down the Palm Sunday Road and visited the Church of All Nations at the Garden of Gethsemane. We then went on to the Pools of Bethesda and St. Anne's Church, passed through 'Ecce Homo' Arch (Behold, the Man!) and the Crypt of Sisters of Sion. On to the Via Dolorosa and we visited each Station of the Cross on the way to the Church of the Holy Sepulcher. We visited the Room of the Last Supper and King David's Tomb. And we saw the dungeon where Jesus was imprisoned at the Gallicantu.
Day 7 — Jerusalem New City and Bethlehem
We went onto the New City and visited he Yad Vashem Holocaust Memorial. In the afternoon we went to the Herodium for a visit to King Herod's Palace and Tomb. We continued on to Bethlehem for a visit to the Shepherds Fields, Manger Square and the Church of the Nativity. We finished our touring today with a communion at the Garden Tomb. This was a highlight for me. After seeing Golgotha, the place where Christ was crucified, we had a lovely British tour guide take us around the Garden Tomb. She shared the Gospel with us— she was really shining as she spoke. I won't forget that day easily.
Day 8 — Dead Sea
We went to the Dead Sea—the lowest place on Earth. We stopped and explored the caves of Qumran, where the Dead Sea Scrolls where discovered. We went up the mighty fortress of Masada via cable car, where the Zealots made their last stand against the Roman Army. We floated on the salty waters of the Dead Sea.
Day 9 — Beersheba / Depart Tel Aviv
We visited the Biblical city of Tel Sheva. There we were given an overview of the battle of Beersheba. We continued into Beersheba for a visit to the Park of the Australian Soldier and the Commonwealth Cemetery. We stopped at the Bell Caves of Beit Guvrin. Then we went onto the Elah Valley, site of the famous battle between David and Goliath. We travelled through Beit Shemesh where the Ark of the Covenant rested. Then we got on the plane to head back to Oz!
I had a few creative ideas while I was there. We recorded a Historymakers radio special & I have an idea for writing a book about the experience. And I'd like to take a film crew when I go back. One idea was to have a few pastors featuring in a documentary. Maybe some pastors who are ex–Muslim, a messianic Jew, and maybe an ex–Buddhist… I will work on this idea, and am open to suggestions, if anyone has any…
Another idea was to film a documentary on the Battle of Beersheba with some soldiers, and some descendants maybe?
Yet another idea was to make a doco of all the great food over there. Maybe take a chef or two along, and film in the kitchens. The food there is amazing! A melting pot of many cultures. I'm thinking of calling it: You Had Me At Hummus. Featuring foods like falafels, hummus, tabouli, pita bread, amazing kebabs, salads, fruits and some great Middle Eastern wine and beers too!
I got a sore throat at the end of the tour, and lost my voice! I felt sorry for the rest of the group, because they had to miss out on my witty jokes and insightful commentary on a vast array of subjects. Seriously, they thought it was hilarious, a radio guy & a preacher with no voice! Thankfully I've been extensively trained in the art of mime, and I could communicate with carefully crafted hand gestures and facial expressions, like a smile, a frown or a thumbs–up! It was really frustrating, but it caused me to be a little more reflective, like a monk on a vow of silence. So I've decided to take this vow regularly, I'll be scheduling in to do this daily. Every night when I go to sleep, until I wake up.
On a more serious note, I did my daily devotions every day on the tour. I read through the Bible every year with a reading plan. It's about 4–5 chapters a day. It was amazing how relevant the verses were while I was in, or nearby the place where they were written. Here's the passage I read on the day I got back:
For we who worship by the Spirit of Godare the ones who are truly circumcised. We rely on what Christ Jesus has done for us. We put no confidence in human effort,  though I could have confidence in my own effort if anyone could. Indeed, if others have reason for confidence in their own efforts, I have even more!
I was circumcised when I was eight days old. I am a pure-blooded citizen of Israel and a member of the tribe of Benjamin—a real Hebrew if there ever was one! I was a member of the Pharisees, who demand the strictest obedience to the Jewish law. I was so zealous that I harshly persecuted the church. And as for righteousness, I obeyed the law without fault.
 I once thought these things were valuable, but now I consider them worthless because of what Christ has done. Yes, everything else is worthless when compared with the infinite value of knowing Christ Jesus my Lord. For his sake I have discarded everything else, counting it all as garbage, so that I could gain Christ and become one with him. I no longer count on my own righteousness through obeying the law; rather, I become righteous through faith in Christ.For God's way of making us right with himself depends on faith. I want to know Christ and experience the mighty power that raised him from the dead. I want to suffer with him, sharing in his death, so that one way or another I will experience the resurrection from the dead!
I don't mean to say that I have already achieved these things or that I have already reached perfection. But I press on to possess that perfection for which Christ Jesus first possessed me. No, dear brothers and sisters, I have not achieved it, but I focus on this one thing: Forgetting the past and looking forward to what lies ahead, I press on to reach the end of the race and receive the heavenly prize for which God, through Christ Jesus, is calling us. Phillipians 3:3-14 NLT
This chapter I read was very poignant after my time in Israel. I saw the land three religions are all claiming as their own. Where there are temples, synagogues, churches, altars, idols, statues all built as shrines for their religions. BUT IT'S ALL ABOUT RELIGION!
Religion can be very different than having a relationship with God through Jesus Christ. Religions are man–made, and are based on trying to get access to God through rules and regulations and works. Man–made religions all are based on people's efforts in reaching God and being made right with Him through their own good works.
God's plan for man's salvation and for being right with Him is told throughout the Bible, in the Old Testament and the New Testament. God's plan is not based on people's efforts and good works, but is based on His amazing Love and amazing Grace for us. His plan involved His precious Son Jesus paying the price and cost for our sins on the cross.
You need to put ALL of your trust and faith in Jesus and in what He did for us on the cross, and not in any religion or in your own efforts. Simply put all of your trust and faith in Jesus, and accept His gift of salvation and eternal life, and experience the joy of having a right RELATIONSHIP of love with God. I've heard it said this way, "Man's way to reach God is religion; God's way to reach man is Jesus."
The Bible says, "I (Jesus) am the way, the truth, and the life. No one can come to the Father except through Me." John 14:6 NLT
And "For by grace you have been saved, through faith; and that not of your own, it is the gift of God. Not of works, lest any man should boast." Ephesians 2:8–9 NKJV
I reckon every Christian should plan to visit Israel and see the place where Jesus walked. It has made the Bible come alive to me, and my heart has come alive to pray for the people of the Middle East. We will see the end times events unfold in this region before the return of Christ. And whatever your view on the Scriptures, it's well worth the investment to see where it's all happened, and where it's all going to take place.
Some use the word pilgrimage, for me that word is appropriate. One dictionary definition of pilgrimage is: "A long journey or search, especially one of exalted purpose or moral significance." All my life I've read about these places in Scripture, but now I've seen them, experienced them. I've eaten the food, walked the roads, felt the heat, talked with the locals, and prayed in the same places, seeking the Lord. I feel like I've studied a year of Bible College, had the holiday of a lifetime, and had a spiritual season of revival—all in 10 days!
I know some people don't think it's worth it to go. I do believe we should be going on mission trips, and be wise with our finances and good stewards of our time. But I believe a trip to Israel will open your eyes. Not only to History, to other cultures and religions, but most importantly, to Jesus. You will discover so much more about Him. I truly believe with all my heart that He is the promised Messiah.
One thing that stood out to me was the number of times I saw Crosses on the trip. My kids will always point out a Cross when they see one here in Australia. They have become Cross–eyed, always looking for the Cross. They'd be worn out on this trip—Crosses are everywhere.
The Cross is the hinge of history, it's where everything changed. I have seen Golgotha, the place of the skull, where Christ was crucified. I've seen the area where Christ's body was laid. I've seen the road to Emmaus where He appeared to the disciples, I've seen the beach where He ate fish with the disciples. I know that He rose again, I know he's alive and that He's coming back soon. And all who call upon the name of the Lord will be saved. More than ever I want to go into all the world with this good news. From Jerusalem, Judea, Samaria and to the uttermost parts of the earth.
If you haven't prayed to ask Jesus to forgive your sins, here's an example of what you can pray. Saying this prayer is simply a way of declaring to God that you are relying on Jesus Christ as your Savior. There are no "magical" words that result in salvation. It is only faith in Jesus' death and resurrection that can save us. If you understand you are a sinner and in need of salvation through Jesus Christ, here is a prayer you can pray to God: "God, I know that I am a sinner. I know that I deserve the consequences of my sin. However, I am trusting in Jesus Christ as my Savior. I believe that His death and resurrection provided for my forgiveness. I trust in Jesus and Jesus alone as my personal Lord and Savior. Thank you Lord, for saving me and forgiving me! Amen!"
I really believe I needed to include that prayer in my report on the trip, because for me the trip reminded me that my Number 1 call in life is to be an evangelist, to tell people the good news of the Gospel, and show people how they can follow Christ.
Of course praying that prayer is no magical guarantee of salvation, but it's a guideline for the beginning of a relationship with God. The rest is between you and God. Of course I am happy to speak with anyone further if they'd like to chat more about this. Feel free to email me.
I have uploaded a number of YouTube clips from the tour at: http://www.youtube.com/user/newhopebrisbane/videos
You can see our photos and itinerary at http://www.naftalitours.com/?CategoryID=409
I am working on a brochure for my upcoming tour, so please email me if you'd like a copy: matt@newhopebrisbane.org
Shalom and God Bless!
Matt Prater — Pastor
Matt lives in Brisbane, Australia, is married to Carol and has 3 children, Lydia, Joshua and Grace. He is the Senior Pastor of New Hope Brisbane, an exciting church in Kelvin Grove www.newhopebrisbane.org
He also hosts a weekly radio show called "Historymakers" which now plays on over 590 radio stations around Australia, NZ, the UK and Asia. www.historymakersradio.com  "Historymakers in music" is a book released in June 2008 and is available in bookstores all over the country. Matt also currently hosts the Breakfast Show on the Vision Radio Network across Australia, on over 560 Relay stations: www.vision.org.au/thejourney
More than anything he is passionate about sharing his faith with Business people, Students, Churches, in the media & with anyone who'll listen. Especially over a good coffee.